2021 Results
The Ed White Shootout is  an event that honors Ed White, a  beloved member of our club who exemplified integrity and a competitive spirit. The Shootout was played on Sunday under beautiful sunny 80° weather. Hail to the winner,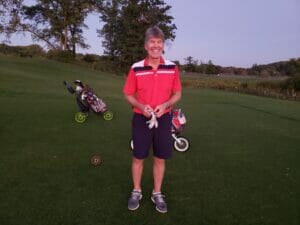 EWS Champion Marty Weber
Marty fought his way to the finish under flashlights and a little help from the gallery as to the direction of the flag, due to darkness. This was a great event and it featured some of the best golf under pressure conditions that Braemar will ever see. I want to thank all the participants for their sportsmanship, friendliness and competitive spirt. This includes Scott Nelson, Rick Windham, Tim Smith, Vince Bradford, Steve Tanner, Bob Malby, Greg Baron, Dick Helde, Dennis Russell, and the new 2021 Ed White champion, Marty Weber. We are very appreciative of the  huge gallery consisting of Bob and Joanne Teese, and Judy Tanner. This gallery gave the competitors much encouragement. I also want to thank Mark Schmidt who served as the Marshall and did an outstanding job controlling this rowdy crew. What a great way to end the 2021 BMC season.  Attached are pictures of our winner Marty Weber and the entire ten man field.

Marty w/Runner Up Steve Tanner

The Full EWS Field
Event Details
The Ed White Shootout is a special event that recognizes active participation among our members. The event is named after a long-time BMC member, Ed White, who exemplified the kind of active leadership for which our club is known.
You accumulate points for every official BMC event in which you participate:
3 Points for playing in each Weekly League.
4 Points for playing in a Major.
Additional Points awarded for finishing in the top 3 in Majors. (Both Gross and Net.)
Volunteers earn an extra point.
Those with the most points will be invited to participate in the Ed White Shootout which happens at the end of the season. The BMC and Braemar will cover the greens fees so there is no cost involved to the participants.
The number of members invited will depend on tee time availability and our assessment of how many are worthy. It will be at least 10 and could be as many as 30 members. If we get 30 here's how it works:
The first group of ten qualifiers (1-10 point accumulators) tee off – that's right – TEN tee off.
Then the next group of qualifiers (11-20 point accumulators) tee off.
Then the final and third group (21-30 point accumulators) tee off.
Highest score on the hole is out, ties either chip or putt off to go to the next hole… it's a hoot!
If we wind up with less than 30, we adjust.
Questions? Steve Tanner is your organizer and host for the Ed White Shootout.
Phone: 612-201-7283
Email: rst740@aol.com