2020 Results
Let me start by saying how much I appreciate the way you all responded to the switch from the back nine to the front nine.  I know that this is a big event for the BMC and I should not have been surprised to see everyone take the change in stride.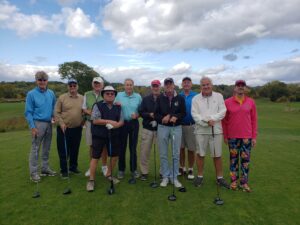 Tim Nord is our 2020 Ed White Shootout Champion and we all want to extend our
congratulations
 to Tim. In the final analysis we are all winners for being a top ten event participant this year. I personally would like to thank Mark Schmidt for his outstanding job as Marshall.  Mark has the unique quality of being firm, fair and friendly. I have attached an email from Mark with pictures taken before and after the event.  I think it appropriate that in the group picture the winner and the last place player are standing together in the front row. This is just another way of saying we are all winners. The final results were:
1 Tim Nord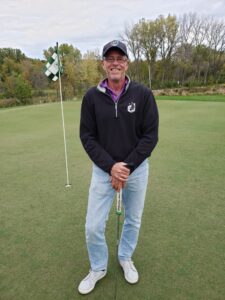 2 Steve Tanner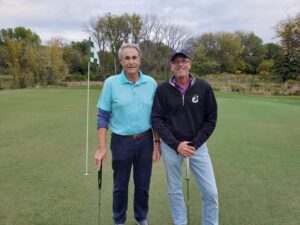 3 Marty Weber
4 Bob Malby
5 Denny Russell
6 Scott Nelson
7 Rick Windham
8 Greg Baron
9 Bob Teese
You see in Mark's note that he is suggesting that we consider having a trophy with the winners dating back to 2007 when we played our first EWS event. I will start by saying I feel that this is a great idea and would like to hear from you about your views.
I feel very lucky to be a part of this great group of golfers and hopefully I can continue to be the chairman of this event for the next few years.
Event Details
The Ed White Shootout is a special event that recognizes active participation among our members. The event is named after a long-time BMC member, Ed White, who exemplified the kind of active leadership for which our club is known.
You accumulate points for every official BMC event in which you participate:
3 Points for playing in each Weekly League.
4 Points for playing in a Major.
Additional Points awarded for finishing in the top 3 in Majors. (Both Gross and Net.)
Volunteers earn an extra point.
Those with the most points will be invited to participate in the Ed White Shootout which happens at the end of the season. The BMC and Braemar will cover the greens fees so there is no cost involved to the participants.
The number of members invited will depend on tee time availability and our assessment of how many are worthy. It will be at least 10 and could be as many as 30 members. If we get 30 here's how it works:
The first group of ten qualifiers (1-10 point accumulators) tee off – that's right – TEN tee off.
Then the next group of qualifiers (11-20 point accumulators) tee off.
Then the final and third group (21-30 point accumulators) tee off.
Highest score on the hole is out, ties either chip or putt off to go to the next hole… it's a hoot!
If we wind up with less than 30, we adjust.
Questions? Steve Tanner is your organizer and host for the Ed White Shootout.
Phone: 612-201-7283
Email: rst740@aol.com