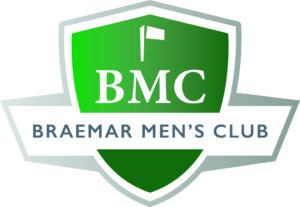 Spring Stag Tournament
Event Co-Chairs
Scott Schwein (email: sschwein@dairyproductsinc.com)
Mark Schmidt (email: mark@mschmidtcpa.com)
This Tournament earns you 4 EWS Points
The BMC 2021 Spring Stag was once again Hosted by Minnesota Valley CC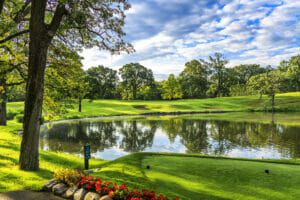 Hole #12 MVCC
The 1st BMC Major Event of the 2021 golf season is in the books. 108 of your BMC brethren gathered at Minnesota Valley CC on a gorgeous spring day and put their skills to the test.  Prizes were paid to the top 4 teams in both Gross and Net Flights and also for skill events for both flights. The cream who rose to the top were:
2021 MVCC Stag Gross Flight Winners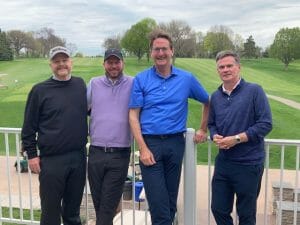 Brian Kaul, Chris Reeves, Mathias Von Heydekampf and Steve Bloomquist
Final Score: -4
2nd Place Gross: +2 – Joe Gensch, Jon Whitcomb, Tim Deutsch, Chris Peterson
3rd Place Gross: +4 – Dave Bell, Tim Smith, Bill Hollway, Bill Angel
4th Place Gross: +8 – Tom Klassen, Cort Lundeen, Chris Mosley, Tyler Nelson
2021 MVCC Stag Net Flight Winners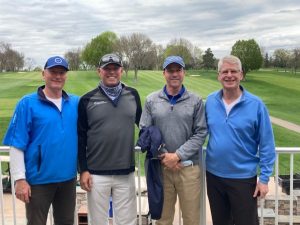 Steve Eisworth, Dave Murdock, Tom Schauerman and Dan Amen
Final Score: -24
2nd Place Net: -20 – Bob Malby, Marty Weber, Steve Tanner, Bob Teese
3rd Place Net: -19 – Joe O'Neill, Greg Baron, Doug Osterud, Dennis Kudzy
4th Place Net: 17* – Steve Scott, Mike Casserly, Tim Dunn, Mike Reget (* – scorecard playoff)
2021 MVCC Stag Skill Event Winners
Longest Drive Blue/White – Hole #5 – Ryan Flynn
Longest Drive Blue/Copper – Hole #15 – Steve Streeter
Closest to the Pin Blue/White – Hole #2 – Scott Schwein
Closest to the Pin Blue/Copper – Hole #12 – Rick Pollock
Longest Putt Blue/White – Hole #9 – Chris Mosley
Longest Putt Blue/Copper – Hole #18 – Tim Dunn
Tournament Details
Date and Time: Monday May 3rd 2021. 12:30 shotgun start. Individual check in starts at 11:00.
Format: Build Your Own 4 Man Team. Best 2 of 4 Balls with multiple winners for both Gross and Net divisions. Plus various Skill Events.
Entry Fee: $145 per player, which includes:
18 holes with Cart. 2 Players per cart.
Range Balls
Multiple Gross and Net Winners
Skill Contests
Steak Dinner after golf in the Dining Room!!!
Other Information
This is a Members only event.
Tables will be socially distanced with 6 people per table.
Masks required indoors at all times except while seated at your table.
Per MVCC, no beverage carts available due to COVID 19, however Canteen and Snack Shack will be open.
To register, login and scroll down to the bottom of this page, click a Qty of 1 and proceed to checkout. All Players need to register individually.
BMC Spring Stag at Minnesota Valley CC Disclaimer
Before deciding to participate in this event, participants should make a thorough assessment of (i) any and all individual health-related considerations or concerns they may have or deem relevant, and (ii) any and all health-related risks involved in participating in this type of activity.  Participants acknowledge that, before choosing to participate, they were afforded an adequate opportunity to seek advice on doing so from their health care professionals, and they assume full responsibility for all health-related risks of participating in this event, including the risk of contracting COVID-19 or other communicable illnesses. The BMC assumes no responsibility whatsoever over any health-related risks to participants and cannot provide any assurances that participants will not contract COVID-19 or any other communicable illness as a result of their participation.